Guide to Boba Fett Holiday Season Gifts and Decorations
Updated for 2015-2016!
Instead of covering the holiday season year-to-year, we want to make things a little easier for everyone. Here's our one-stop permanent link for you all to enjoy.
Table of Contents
Boba Fett Holiday Spirit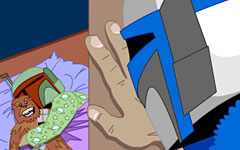 Back in 2001, StarWars.com produced an online animation called "Holiday at the Fetts." They no longer have it online, but we host the Flash animation -- so check it out.
Boba Fett Gifts
Regardless of the time of year, we believe it is always great to gift Boba. Here are two options for you: you want to buy a gift or you already have a gift.
You want to buy a holiday-themed Boba Fett gift:
Looking for some officially-licensed Boba Fett items that are directly related to the holiday season? See our holiday ornaments category, which includes the Hallmark and Disney ornaments, and notes what's available online. Here are some top picks:
Looking for something handmade and/or fan-made?
There are a few fun Christmas cards:
Three Etsy craftspeople make Boba Fett Christmas Stockings:
Perfect for the cold weather, there are many, many crochet Boba Fett hats sold on Etsy. There used to be just one or two, but then came the masses. We haven't found any that we love, so...
Here's a list of the search results. Let us know what you dig in the comments!
There are many Christmas ornaments:
More of a Boba Fett Christmas-themed shirts and sweaters type? There's a $17.99+ t-shirt from TeesandThankyou (Etsy).
Looking for anything at all related to Boba Fett? Browse our collectibles database, which provides links to online shops where applicable/recommended.
Looking to make a list for yourself or someone? Use your BFFC account to create a "My Bounty" list, which can easily tag items you want, like a holiday list.
You already have a Boba Fett gift:
Do you have something unique for the holiday season? Post your picture on our message board or our Facebook or let us know via our Twitter or Instagram
Boba Fett Decorations
You want to create a Boba Fett decoration:
You want to be inspired by others who have created a Boba Fett decoration:
See our list from Etsy crafters (above).
You already created a Boba Fett decoration:
Share your creations on our message board or on our Facebook!