Notice: Undefined variable: metaDescription in /nfs/c01/h09/mnt/37219/domains/bobafettfanclub.com/html/global/head.php on line 32

Notice: Undefined variable: metaTitle in /nfs/c01/h09/mnt/37219/domains/bobafettfanclub.com/html/global/head.php on line 143

Notice: Undefined variable: excludeHeadTitle in /nfs/c01/h09/mnt/37219/domains/bobafettfanclub.com/html/global/head.php on line 153

Notice: Undefined variable: specialJS in /nfs/c01/h09/mnt/37219/domains/bobafettfanclub.com/html/global/head.php on line 232


Notice

: Constant FORUM_ROOT already defined in

/nfs/c01/h09/mnt/37219/domains/bobafettfanclub.com/html/global/header.php

on line

7 Notice

: Constant FORUM_IGNORE_REQUEST_URI already defined in

/nfs/c01/h09/mnt/37219/domains/bobafettfanclub.com/html/global/header.php

on line

9
My Bounty
Filter by Show All • I Have It • I Want It • I Like It
Looks like you don't have any saved items yet.
Start your own by simply logging in, browsing the collectibles database, and tagging what you own / want / like.
Looking for inspiration? Check out another BFFC user list on the right.
Here's an example of what it looks like: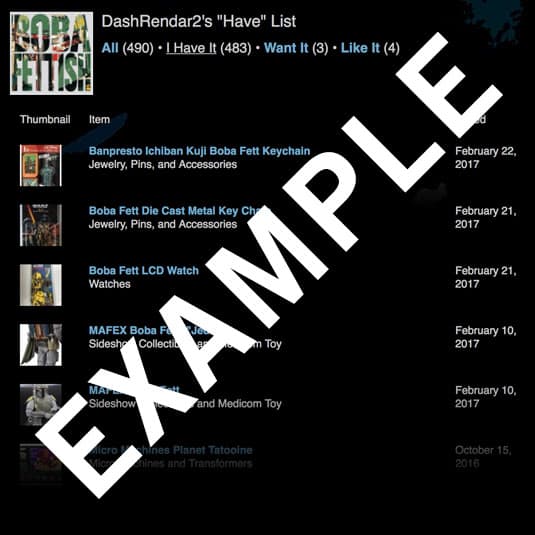 Share This List
Copy this link to share this list with friends/family. No login required.
BFFC Users with Lists