Topic: Time paradox RPG
I have an idea for an RPG I think the plot is catchy,I will post the intro,and if you want to join....well do so.In case you don't like it,say it freely.Whoever joins,please continue to write and don't abandon it.
HERE IS THE PLOT:
A republic attack cruiser was sent to patrol the outer rim after the battle of Coruscant,when suddenly a black hole opened and sucked the whole ship!After a blinding flash the cruiser reapeared in a place where everything was just so....different.The technology first of all.In fact,the hole traveled them in time,and now without knowing it,they are at the old republic,some 3,956 years ago!The clones,now confused,will try to discover where they are and then find way to return to their time!In their quest,they will discover many things about the old republic,as well as the Sith and Jedi of that time.
SCENARIO:Choose a character among the clone ranks that existed in the battle of Coruscant,give him a name and start the adventure!Also you can choose to be someone from the old republic!No heroes like Carth or Calo are allowed but you can make chars.that have something to do with them e.g a associate of Calo Nord.Jedi and Sith are allowed,but only in the old republic,as the RAC didn't carry any Jedi at the time of the incident.
To those who don't know,here is what a RAC looks like: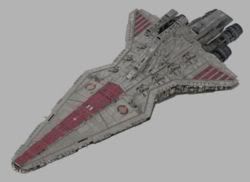 Fear! Fear attracts the fearful...fear is my ally.