Views
Personal tools
Navigation
SEARCH
TOOLBOX
LANGUAGES
Toolbox
The Death Watch
From Fettipedia
(Difference between revisions)
(4 intermediate revisions not shown)
Line 1:
Line 1:
-

[[Image:http://www.bobafettfanclub.com/multimedia/galleries/albums/userpics/10002/clonewarsmandodooku.jpg]]

+

http://www.bobafettfanclub.com/multimedia/galleries/albums/userpics/10002/clonewarsmandodooku.jpg

'''The Death Watch was a ruthless group of mercenaries who had once been members of the Mandalorians but left because of their insatiable appetite for greed and war.'''

'''The Death Watch was a ruthless group of mercenaries who had once been members of the Mandalorians but left because of their insatiable appetite for greed and war.'''
---
Current revision as of 06:50, 26 January 2010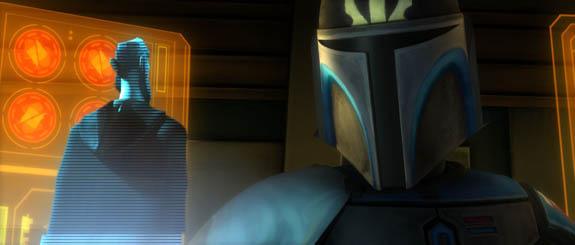 The Death Watch was a ruthless group of mercenaries who had once been members of the Mandalorians but left because of their insatiable appetite for greed and war.
The group's leader Vizsla led his group in slaughtering the family of Jango Fett that had been aiding the Death Watch's sworn enemies led by Jaster Mereel. A betrayal within Mereel's own group by fellow member, Montross, would later lead to his death. However, his successor Jango would lead the True Mandalorians in decimating their enemies once and for all.
Appearances
Star Wars: Clone Wars animated series
Jango Fett: For All Seasons
This page was last modified on 26 January 2010, at 06:50.
This page has been accessed 2,574 times.